Is it me, or are the police getting a little too big for their britches? Yesterday, police at the University of Florida arrested a 21 year old for asking John Kerry a few too many hard hitting questions - namely about impeaching Bush. The scene is right out of the playbook of Soviet Russia or the GOP, but to see it happen with John Kerry and the Democrats is a little disconcerting.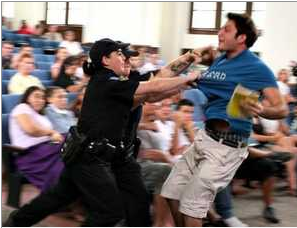 The Huffington Post has this


A University of Florida student from South Florida was Tasered and arrested Monday when he attempted to speak at a forum with U.S. Sen. John Kerry after the question and answer session had ended, university officials said.

Andrew Meyer, 21, asked Kerry why he did not contest the 2004 presidential election, which he lost to President Bush, and why there had been no moves to impeach Bush.

''He apparently asked several questions -- he went on for quite awhile -- then he was asked to stop,'' university spokesman Steve Orlando said. ``He had used his allotted time. His microphone was cut off then he became upset.''
Here's the video
Not that Kerry had anything to do with it, but still - come on! Don't get me wrong, after his soapbox diatribe, the kid was resisting arrest and did deserve the taser - at least a little, but only because it was funny - but why was he arrested with such force in the first place? Police are only supposed to use the taser if they feel like their lives are threatened.
I thought this was a country where we could hold our leaders - at least the Democrats - accountable for things they do or do not do. I blame you, readers of Sam Mag Online.
Update: John Kerry posted this on his web page today.
WASHINGTON D.C. – Sen. John Kerry issued the following statement today, in response to the arrest of a student at the University of Florida.

"In 37 years of public appearances, through wars, protests and highly emotional events, I have never had a dialogue end this way. I believe I could have handled the situation without interruption, but I do not know what warnings or other exchanges transpired between the young man and the police prior to his barging to the front of the line and their intervention. I asked the police to allow me to answer the question and was in the process of responding when he was taken into custody. I was not aware that a taser was used until after I left the building. I hope that neither the student nor any of the police were injured. I regret enormously that a good healthy discussion was interrupted."